Tributes to Joe
This page is devoted to tributes to Joe by those who knew and loved him.
Please feel free to contribute your own reminiscense by writing me at robmary@swbell.net.
---
The first tribute is by Carolyn McLaughlin, Joe's sister.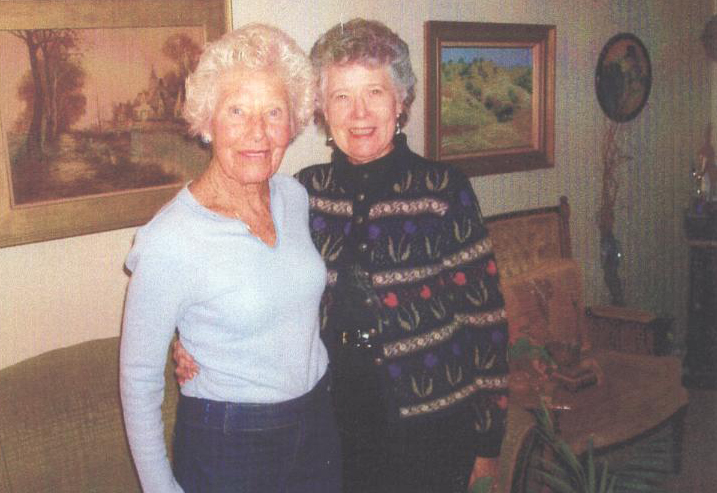 Jae (left) and Carolyn were Joe's two sisters. Jae passed away nine days after Joe's death.
Tribute to Joseph Wm. Meier 3rd
by Carolyn McLaughlin
He was my brother. We grew up in a family of three siblings; Joe, our sister Jae, and me. Joe died on Aug. 18, 2010, and Jae joined him in heaven nine days later. This, however, is not a story of sadness, but rather of life. Most people remember Joe's humor, his achievements, and his intelligence. I remember him through our growing-up years and the many years encompassed since then.
When Joe was little dad would take him for a ride every Saturday morning, so they could talk. One day my mother asked, "What do you talk about?" Dad told her that Joe told him some great stories. Mom's retort was "Stories ? He's only four years old what could he talk about?" "They're interesting, I love to hear them!" was dad's reply. And it seems people are still saying the same thing about Joe's writing. Another favorite story mom told happened many years later. She had just received a letter from him. Typical of Joe, it was long, imaginative and brought a smile to your face. Tucked in between all the lines was one short sentence informing her he had just received the honorary title of "Professor". Nothing more. He had met (minimally) the required rule she invoked to each of us: keep me informed of how you are. She shook her head; it had triggered some long-ago-memories: "I remember his first day of school. He was five years old and wanted to know why he had to go to school. I told him he had things to learn and they would teach him. When he returned home that first day he said 'ok I've gone to school, now how many more days do I have to go?" She told me that she didn't have the heart to tell him, and added "But look at him, he's still learning and I don't think he'll ever stop".
Joe had three "best friends" all through high school: Warren Smith, Cliff Airey, and Bud Emmons. Upon graduation they all signed up to enlist in WWII, all returned home, and all went to college. Eventually, each got jobs, married, and went on with separate lives. But they always kept in touch and managed to have a few reunions over the years; seventy plus years of friendship meant a good deal to each of them. Two are left; Cliff Airey in Florida and Bud Emmons in Pennsylvania.
Joe's wife Joan and youngest daughter Katy preceded him in death. His daughters Ellen and Mary have inherited their dad's zest for life and their mother's bent for creativity. Each has a strong sense of responsibility and determination with an added touch of humor that seems to get them through life's trials. They light up my life and though we don't live close, we remain so within our hearts. Email helps too.
For me, Joe's most impressive achievement was his passion for life. It gave him the ability to turn the mundane into magic through his photography and writing. You feel this passion. I admired, respected and loved him. I will miss him terribly and there may even be a few tears in my eyes as I think of him but there will be laughter in my heart. He gave me a lifetime of beautiful memories and a bundle of letters I've saved over the years.
Carolyn McLaughlin
---
For Joe: A Remembrance
by Bud Emmons
My name is Bud Emmons. I remember "Pal Joey". I remember when I first met him. When he transferred into Orange (NJ) High School from East Orange as a sophomore in 1937. I remember how impressed I was with his capabilities. How focused he was in his goals. How he made me want to emulate him. How I did. He became my standard. Now I had a goal: To beat this new kid. We had a competion that I didn't win--and he didn't know he was in. We became life-long fast friends, sharing adventures beyond count. And now he's gone. For awhile. For now, I can only say: "Hey Joey, you were my brother! Wait up! Wait for me!"
Bud
---
Tribute
by DiAnne Pappas
I knew Joe for many years. I was married to Joe's friend, Al Eno. After Al passed away, I moved back to the Midwest where my family lived, and was able to go to Milwaukee a few times and see Joe. The last time I saw him, in October 2005, my sister and I met him for dinner at Balistreri's. He was in good spirits, talkative, and happy about having dinner with two blonds. He is such a wonderful storyteller, and can make the best story out of the most mundane subject.
I occasionally will check out Joe's website. Something made me look at it this month, and I was so shocked and saddened to learn of his passing. I have many, many fond memories of Joe when we worked at Aerojet together. After Al retired, and we moved around California and Florida, Al and Joe would exchange audio tapes. Joe's tapes were so precious - we would listen to his stories over and over.
I have kept some of the e-mails that Joe sent me - some of which are below. Please feel free to use any or part of them, whatever you feel appropriate.


Excerpts from the emails (edits are indicated by "..."):
8/17/00 5:08 PM
Subject: Mellow Mood
Dear DiAnne,
I was pleased to get your message about revisiting my website. You're right about me having fun with it…
Most of all, I appreciated your comment about Joan: "I now feel like to know her." When I read that, I felt like I had accomplished something. You would have liked her.
Every Wednesday at noon I visit her grave in Holy Cross cemetery. Today, I had popped a tape of New Orleans jazz into my car stereo and as I followed the tree-lined lane to her grave, the beat of the music brought to mind movies I've seen about New Orleans funerals. Somehow Holy Cross got a happier feel. I was temped to slow to a funeral-march pace and turn up the volume.
I can't explain why I go there. I feel at all times that she is still by my side, and yet each week, I stand at the foot of her grave and tell her everything I've done in the week just past. As if she doesn't already know. I can't explain this. It's got something to do with missing her. Today, her grave is sprinkled with little white flowers.
…
Joe


11/19/00
Subject: Getting Nippy
Dear Deno,
Normally, this late in the year we'd be into our long johns and our blood would be thickening rapidly. But a mild autumn had lulled some of us into feeling that Mother Nature, aided by global warming, might skip winter this year. Some of us looked out upon our leaf-laden lawn hoping, even expecting, that a benign wind would redistribute the leaves - one half to the neighbor on the left, and one half to the neighbor on the right.
To this type of person, last Monday brought an unpleasant surprise in the form of freezing temperature and a bitter wind that redistributed leaves from my neighbors, right, left, and rear, into my back and front yard. This rude awakening, in addition to its message of a clear and present need to start playing catch-up in a hurry, also reminded me that snow behaves the same way. I get twice as much snow as neighbors right, left, rear and across the street. The aerodynamics of the site is such that their snowdrifts are lofted swiftly into my driveway. In addition to these acts of God, I must suffer the acts of city snow-plow crews who have entered into a vast conspiracy to swing their blades so as to dump mountains of snow onto my driveway apron - just after I have laboriously cleared it. Then Mother Nature stops in again to freeze the compacted mountain of snow into an iceberg.
I hadn't even prepared a list of "Winterization Things to Do." So, the first order of business was to create such a list. Its creation and editing took time, but by Wednesday, I was ready to attack. But Wednesday was even colder and bitterer, necessitating frequent retreats inside for hot coffee laced with brandy. Flipping on CNN to observe the latest idiocies of the fiasco in Florida further slowed my progress. Thursday and Friday were much the same, but I struggled on and yesterday crossed off the last item: "winter-wrap external faucet." This task is understood to include draining water from the hose before hanging it in the garage. But the hose was rock solid with ice. I considered defrosting it in the microwave, but decided the hell with it and hung it in the garage. One way or another, the water will come out next spring.
Somewhat ironically, during the early part of this frigid week, I was finishing off my latest website gallery section: "L.A. Light," a pictorial account of a warm and beautiful midwinter afternoon in Los Angeles almost thirty years ago. To me, it's a reminder of why I once loved Los Angeles. If you haven't seen it, check it out. You will also find a new page or two in the JOAN section.
On a somber note - Monday marks the second anniversary of Joan's death. It's often said that the pain of loss gets easier with time. To some degree I find this to be true. But the occasional sharp pang of realization of loss stabs as deep as ever, and you know it will come again and again, and it will never get easier.
Two weeks ago I received a strange letter that prompts some thoughts on communication with the hereafter. My feeling is that any such communication, if it is at all possible, must be ambiguous; we earthbound mortals will never be given proof-certain about the Great Beyond. We are to wait and wonder, believe or not believe.
…
I have experienced a few events which, with a receptive mind, one could view as contact with Joan. Is this more recent event, this puzzling letter, in that category? The letter was addressed to Joan from her sister, Phyllis. Phyllis died two months ago in September. It's a 9x10 manila envelope badly weathered and water-bleached. Strips of Scotch tape protect the clearly legible handwritten addresses. The envelope was sealed with Scotch tape. The tape has been sliced open. The envelope is empty. The Post Office stamp is dated July, 1991.
A message from two sisters? ("We are together.") Who can say? I have a receptive mind.
…
Joe

---
Tribute
by Sonia Huestis
I've actually never personally met Joe. In 2005 I googled delta images and came across Joe's site. I thought his pictures of the Sacramento Delta were wonderful! One picture in particular was of my childhood dog JD. I was sooo happy to see a picture of my dog I sent Joe an email. Joe was nice enough to send me a picture!!! Oh how he made my day!
I hadn't exchanged emails since, then out of the blue I received an email on August 15 of last year. Joe wanted me to know that he updated his site and that he updated the sac delta pictures. Tonight, I was getting around to catching up on old emails and was saddened to read that he had passed away shortly after his note to me. Oh how I wish I would of responded when I originally received his note! Though I never met Joe, I will always remember his work, kindness and generosity. Thank you for keeping his work on the web! His pictures are amazing!
Sonia Huestis, Sacramento Delta Resident-Courtland CA
---
Tribute
by Curt Haugen
In July of 2005 at the Summerfun Horse Show in Milwaukee I met a most amazing elderly man sitting outside the Wisconsin State Fair Livestock Show Pavilion. This quiet, friendly, humorous and intelligent man with a camera around his neck instantly became "my friend" and will always remain in my heart as Joe Meier, one of God's gifts to earth.
Joe's personality and ambiance made every bottle of Miller Lite beer we shared in the hot sun outside that Pavilion taste like fine champagne. Joe also left his impact on my daughter Natalie. He was always so interested in hearing her perspective on showing horses and listened intently as this young lady shared her love for horses with Joe.
Since I share Joe's love for photography his camera immediately caught my eye and over the years we have shared many photographs via the Internet. His website hosting his collection of magical photographs and writings has given my life perspective. Your videos of Joe are both heartbreaking but a true gift from a kind and loving man. Thank you for agreeing to maintain the website.
For Your Information...
1. Photo #9 in Horsy Set 2007 has a picture of Natalie and me.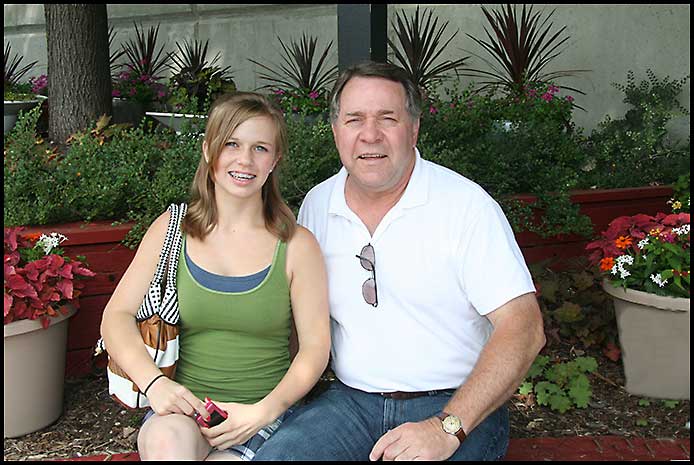 2. In our brief visits Joe always had time to give me an update on Mary and Ellen.
It's truly amazing how one individual who I would see only for such a short time each year could impact my life.
Curt Haugen
---
To see an extended tribute to Joe by his closest friend at AeroJet, Phil Meredith, please go here.
To see different videos of Joe in his final years, please go here.