THE WEATHER
With our furniture in storage, we spent several weeks in the fall of 1984 traveling throughout Washington and British Columbia while living intermittently in a motel in Bellingham, a very small motel. The time of transition is the hardest part of relocation. We were uncomfortable feeling unsettled but we had promised each other to postpone any decision to buy a house until we had lived in the area for a year or so. Bellingham had many beautiful old homes for sale at prices that, after California, seemed unbelievably low. But we held out. A nice rental place was harder to find but by December we'd found one and by Christmas we were settled in a house on Alabama Hill, overlooking Bellingham Bay.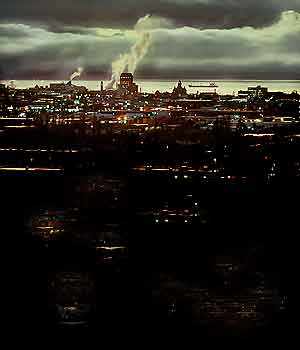 I began to find time to wander around the waterfront with my camera. Friends had warned us of the inclement weather and we were delighted to find them correct. It changes by the hour. We had rain, enough to be refreshing, even one day of snow. At the waterfront the wind can be cruel, but when the clouds break, the low winter sun creates dazzling chiaroscuro patterns.
I found the Blue Dolphin, a waterfront café where I could retreat, relax, watch the clouds scud by, enjoy a Manhattan, savor sea scallops, and count my blessings.